Dual Mechanical Seal Plans
The purpose of dual mechanical seal plans is to allow for near complete control over seal operating conditions to reduce environmental leakage, increase safety, and maximize seal life. The secondary seal is the backup in the event of an inboard seal failure and may be used to control pressure drop across seal faces. The introduction of buffer or barrier fluids are provided and monitored with plans.
Questions? Email or call 866.901.0151.
Swagelok products and assembly work are backed by our Limited Lifetime Warranty.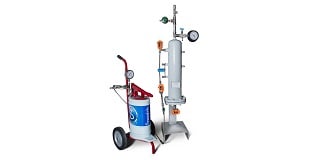 Our seal pot solution is simple, efficient and significantly reduces safety issues and operating costs.
Our Plan 53 reduces safety risks significantly and allows for refilling the seal pot while it remains online creating significant efficiencies and cost savings.
Get faster refill times and easier maintenance, along with a smaller footprint.
Plan 53C is dual seal solution that circulates fluid between the dual seals and is optimal for applications where the seal chambers vary.
It is a great solution for when your facility does not have a centralized seal skid serving multiple pumps.
Plan 55 provides cool, clean, unpressurized buffer fluid to the seal chamber.