Single Mechanical Seal Plans
Single mechanical seal plans (API 682 Plans 11-41) are strategic tube and pipe arrangements that circulate fluid to or from your seal chamber to preserve appropriate lubrication, pressure, temperature, and particulate conditions. The term "plan" is the preferred term by API 682 (4th edition) to indicate "an arrangement of components." Single Mechanical Seal Plans are located on the process side of the seal, with the purpose of extending seal life and keeping process fluid emissions low. These plans typically depend on redirecting fluid to or from the seal chamber by using Swagelok components, tubing and other controlling equipment.
Click on our single mechanical seal plan options below for more information.
Questions? Email or call 866.901.0151.
Our Plan 11 takes advantage of the benefits of tubing versus using piping, helping to reduce leaks points, decreasing installation time and complexity allowing you to keep more labor in-house.
Our low-weight solution offers lower installation cost and less welding. Best of all it is operator-friendly because the gauges allow you to know if the filter is clogged so you are protecting the seal from particulate.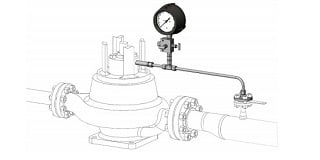 Because it is easy to install, requiring no special welding, our Plan 13 will save you thousands of dollars on each installation and allow you to keep this work in house.
Save thousands of dollars while drastically reducing the amount of time required for installation. Since no special welding is required you can bring more labor in-house.
This system is an upgrade from traditional plans because it provides a significant reduction of weight and an operator-friendly experience due to easy-to-read in-line thermometers.
When you transition to this plan your flow will improve & the weight of your overall system will drop. Plus your operators will love you because the in-line thermometers provide an easy visual reading.